Tiotropium in asthma: back to the future of anticholinergic treatment
Clinical and Molecular Allergy
2017
15:20
Received: 2 October 2017
Accepted: 20 October 2017
Published: 4 December 2017
Abstract
Asthma is among the most common chronic diseases worldwide; however, despite progresses in the understanding of the patho-physiological mechanisms and advances in the development of new therapeutic options and strategies, the disease remains uncontrolled in a not trivial proportion of subjects. Thus, the need of new molecules to treat the underlying biological and functional abnormalities and to control symptoms is strongly advocated by clinicians. In this scenario, the most recent GINA guidelines have included the use of tiotropium bromide in the most severe and uncontrolled forms of the disease, in addition to treatment with inhaled corticosteroid plus long acting beta adrenergic agents. Indeed, a large body of evidence has accumulated to support the use of tiotropium bromide in asthma. The current review paper provides a state of the art systematic revision of findings on the efficacy and safety of tiotropium in the adult and paediatric asthma population. To this aim, electronic searches were undertaken in the most common scientific databases from the date of inception to March 2017. Robust and high quality evidence showed that tiotropium is effective and safe in both adults and children/adolescents. Predictive markers of response have been also suggested, as well as cost–benefit analyses reported. The tiotropium bronchodilator effect seems to be not solely related to the reduction of the smooth muscle tone. However, the observations on anti-inflammatory properties or reduction in mucus production, despite highly interesting, have been only demonstrated in in vitro studies and animal models, therefore advocating for further specifically designed investigations.
Keywords
AnticholinergicAntimuscarinicAsthmaBronchodilationControlEndotypeExacerbationPhenotypeTiotropium
Background
Asthma is a major health concern worldwide, with a global prevalence of approximately 300 million, and an estimation of increasing figures up to 400 million people worldwide by 2025 [1]. Asthma is characterized by airway inflammation, reversible airway obstruction, and airway hyperresponsiveness which lead to respiratory symptoms that vary in terms of frequency and severity. Despite treatment per management guidelines [2], a vast proportion of patients experiences uncontrolled forms of the disease [3], thus representing a relevant unmet medical need. Indeed, uncontrolled asthma is responsible for impaired quality of life, increased number of visits to the emergency room and hospitalizations and disproportionate use of healthcare resources [4].
The observed variability in clinical response to currently available therapies has been related to distinctive asthma phenotypes and endotypes [5–8]. However, the evidence of poor control of symptoms despite novel and more targeted treatments [9] has led to explore novel treatment strategies. In this respect, anticholinergic drugs are being considered an alternative bronchodilator therapeutic option to beta-2 agonists for asthma. Beta-2 adrenergic drugs are the mainstay of asthma management and are the most commonly adopted treatment for preventing and reversing bronchial obstruction [10], however high heterogeneity in individual responses, occurrence of tolerance and side-effects have been reported with their use [11–13]. It is known that ancient Ayurvedic medicine already used Datura stramonium (a plant with anticholinergic effects) for asthma treatment. Subsequently, the discovery of atropine, a potent competitive inhibitor of acetylcholine at postganglionic muscarinic receptors, and more importantly the demonstration of the importance of the parasympathetic nervous system in bronchoconstriction, renewed interest on the potential value of antimuscarinic agents in asthma [10]. Vagal innervation is in fact currently considered the major determinant of airway tone and represents the reversible component of airflow obstruction [14]. An up-regulated release of acetylcholine (ACh) causes an increased bronchial tone, bronchial hyperresponsiveness and reflex bronchoconstriction, thus leading to the narrowing of the airways. Bronchoconstriction is primarily regulated by five muscarinic receptors (MR); M1, M2 and M3 are expressed in the lung and in the bronchial tree. M1R are mainly distributed in the peripheral lung tissue and in the alveolar walls within parasympathetic ganglia and regulate cholinergic transmission. M2R are found in post-ganglionic nerves where they serve as auto-receptors, on smooth muscle cells (SM) and on fibroblasts. M3R are predominantly expressed in SM cells and mediate SM ACh-induced contraction. In central airways, SM contraction is mediated by vagal innervation, whereas in the peripheral airways the function of M3R is mediated by ACh released in response to inflammatory stimuli. M3R can also be found in sub-mucosal glands where they are responsible for mucus secretion. Among the short-acting anti-cholinergic molecules, ipratropium bromide and oxitropium bromide have long been adopted as asthma relievers. Furthermore, a large body of evidence has accumulated in recent years to support the use of the long-acting anti-muscarinic tiotropium bromide in asthma [15, 16], and its use is now recommended by international guidelines (GINA 2016) for chronic treatment of adult patients with most severe and frequently exacerbated asthma [2], in addition to inhaled corticosteroids (ICS) in combination with long-acting beta-2 agonists (LABA). It has been also suggested that tiotropium exerts its beneficial effects through mechanisms other than the reduction on the cholinergic tone of the airways, some of which still need to be confirmed in humans [17].
The current paper aims at providing a state of the art systematic review of efficacy and safety of tiotropium in asthma. To this scope, the main findings on the role of tiotropium in pediatric and adult asthmatic populations were selected in a rigorous and unbiased manner, and reported in light of the current pharmacological treatment recommendations for asthma.
Methods
Electronic searches were undertaken in MEDLINE, Web of Science, the Cochrane Library and Scopus databases. The registers were searched using the keywords "asthma" AND "tiotropium" from the date of inception to March 2017. Following the removal of duplicates, the authors independently selected papers of potential interest on the basis of titles and abstracts for a full-text assessment and reached an agreement in cases of lack of consensus. Original studies of any design (except for single case reports due to low quality), published in English, performed in humans and primarily addressing the efficacy and/or safety of tiotropium in asthma were considered eligible for being included in the present review. In addition, reference lists of included manuscripts, recent reviews and textbooks were hand-searched for further relevant citations.
Results
The search strategy yielded 1864 articles (MEDLINE 211, Web of Science 420, the Cochrane Library 229 and Scopus 1004). Among these, 30 studies met the criteria for being included in the review and are reported below according to their primary aim (i.e. efficacy or safety). In regards to efficacy further distinctions have been also made depending on the target study population (i.e. adults or children/adolescents), the type of the effects investigated (bronchodilator or non-bronchodilator) and the findings on predictive markers of response and cost–benefit (Fig.
1
).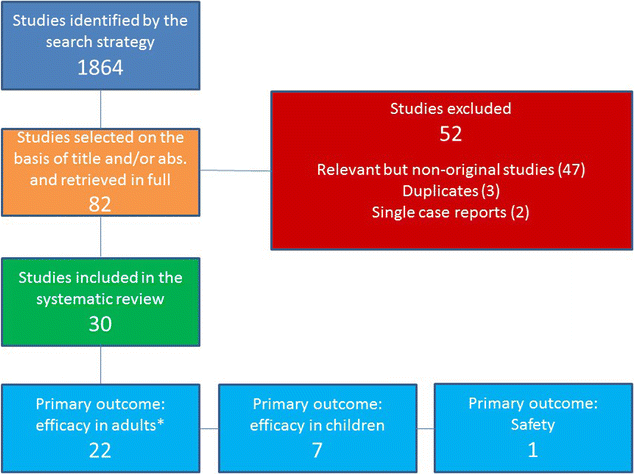 Discussion
Collected findings strongly support a significant beneficial effect of tiotropium on several lung function parameters in both the adult and paediatric asthma populations. Retrieved evidence is of high quality being supported by studies with a robust design (i.e. randomized, double blind clinical trials), performed in large samples and published in top-ranked scientific journals. Most of the data addressed the role of tiotropium delivered by the Respimat soft-mist inhaler, showing best results for the once daily 5 mcg dose. Despite only one trial has been designed and powered for safety as primary outcome (prompting further ad-hoc investigations), the drug has been consistently shown a harmless profile when compared to placebo or other active treatments. Tiotropim has been proven to be effective irrespective of demographic patient characteristics (i.e. gender, age, body mass index, disease duration, age at asthma onset). The studies reporting scores from the Asthma Quality of Life Questionnaire (AQLQ) substantially failed in showing a significant and clinical relevant benefit of tiotropium over LABA/ICS alone despite the effect estimate favoured add-on tiotropium [63]. Conflicting data exist regarding a possible role of ADRB2 single nucleotide polymorphisms in predicting a positive drug response. This aspect might be of high clinical relevance and should deserve further assessment. The efficacy and safety of inhaled LABA in asthmatic patients with the ADRB2 Arg16Arg genotype has been in fact questioned, and the use of antimuscarinic agents may be proposed as an alternative treatment strategy in patients whose symptoms are not controlled by ICS.
In conclusion, the recent positioning of tiotropium as an additional treatment in some forms of asthma is the result of a growing evidence of its efficacy. The anticholinergic effect provides a rationale for the appropriate management of increased bronchomotor tone, which is paramount in chronic airway diseases. The renewing attention to the role of LAMA in asthma has led to the exploration of new pathways. It is plausible to hypothesize that the potent effect of tiotropium is to be attributed to mechanisms other than simply reducing the smooth muscle tone. The observations of anti-inflammatory properties or reduction in mucus production are interesting but at present demonstrated in in vitro studies and in animal models, and advocate for further, specifically designed investigations. Whether the efficacy of tiotropium is a class effect or, as suggested by several studies, a peculiar aspect of the drug is yet to be determined. The research developed and the ongoing/future studies on the demonstration of efficacy and safety of tiotropium in asthma represent an extremely valuable contribution for its optimal management.
Declarations
Authors' contributions
Both authors equally contributed to the literature search, data collection and drafting of the article. Both authors read and approved the final manuscript.
Competing interests
The authors declare that they have no competing interests.
Availability of data and materials
Not applicable.
Consent for publication
Not applicable.
Ethics approval and consent to participate
Not applicable.
Publisher's Note
Springer Nature remains neutral with regard to jurisdictional claims in published maps and institutional affiliations.
Open AccessThis article is distributed under the terms of the Creative Commons Attribution 4.0 International License (http://creativecommons.org/licenses/by/4.0/), which permits unrestricted use, distribution, and reproduction in any medium, provided you give appropriate credit to the original author(s) and the source, provide a link to the Creative Commons license, and indicate if changes were made. The Creative Commons Public Domain Dedication waiver (http://creativecommons.org/publicdomain/zero/1.0/) applies to the data made available in this article, unless otherwise stated.
Authors' Affiliations
(1)
Airways Division, Airways Disease Section, National Heart and Lung Institute (NHLI), Royal Brompton Hospital & Imperial College, London, UK
(2)
Department of Biomedicine and Internal and Specialistic Medicine (DIBIMIS), University of Palermo, Palermo, Italy